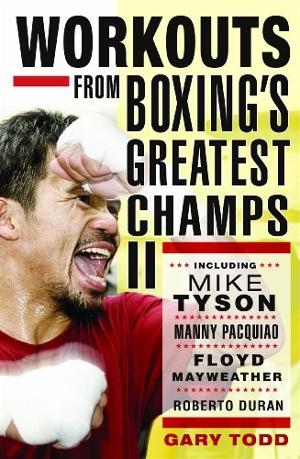 By Paul Upham: When sorting through the thousands of boxing books that have been published over the years, you have to see a lot of covers to find something a little different. In the sequel to his original best seller, author Gary Todd has delivered another winner with "Workouts From Boxing's Greatest Champs II"

A boxing junkie originally from Dundee, Scotland, in 2004 Gary Todd brought something new to the bookshelves with "Workouts From Boxing's Greatest Champs", which not only gave instructions on boxing training and fitness, it took you into the gyms of some of the greats to read how they do it.

Superstars such as Muhammad Ali, Roy Jones Jr, Kostya Tszyu, Ricky Hatton, Ricardo Lopez and Aaron Pryor were featured and gave specific insights into their training routines.

Todd has now followed this unique experience with an equally impressive sequel which again records the training routines of stars such as Manny Pacquiao, Mike Tyson, Floyd Mayweather, Antonio Tarver, Juan Manuel Marquez, Miguel Cotto, Thomas Hearns, Vic Darchinyan, Vitali Klitschko, Roberto Duran and many others.

Locating and cornering so many boxing greats around the world for exclusive in person interviews was a world title fight in itself for Gary Todd.

"It was a real labour of love for me," wrote Todd. "Tracking them down in their gyms was always a challenge, and it got me into some sticky situations. I've been surrounded by gangs 'in the hood'; I've almost been mugged in my hotel room; I've had a gun pulled on me, and I also survived a couple of natural disasters along the way."

It is not just the physical training routines of the boxers which are documented. Todd also gets into more specific details about their diets, workouts, rest and play.

What time does Manny Pacquiao run in the morning?
Do you know what meat Robert Duran ate for breakfast?
Any idea what Vitali Klitschko's favourite hobby is?
Which boxer sleeps in to 11:00am every day?

All of these questions and more are answered in this well set-out book with lots of photos, which can be read cover to cover, or used as a reference when needed.