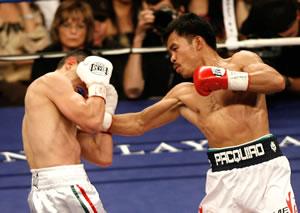 Pacquiao takes Diaz apart: HoganPhotos.com

By Albert Jiménez Howell in Las Vegas: "I am so happy because not only did I win tonight but my idol the Boston Celtics came to watch my fight tonight," were the words spoken by newly crowned WBC lightweight world champion Manny Pacquiao after he scored a 9th round knockout victory over defending champion David Diaz.

With the win over Diaz 34-2-1 (17), Pacquiao now owns four world titles in four different weight classes. He also possesses a legitimate claim to the throne atop boxing's mythical pound-for-pound list that was recently vacated by Floyd Mayweather Jr when he retired from the sport.

This was Pacquiao's first fight at lightweight after winning the world championship at junior lightweight in March against Juan Manuel Marquez.

When asked how he felt at 135 pounds, Pacquiao 47-3-2 (35) answered, "I am very comfortable at that weight. And, I feel stronger than 130 pounds. So, I think I am going to stay at 135 pounds or I can fight at 140."

Pacquiao's trainer Freddie Roach added that this was his fighter's best performance of his career and that he looks great at 135 pounds. Roach added that Pacquiao did not have to starve himself to make the lightweight limit and that 135 pounds is his natural weight.

About the game plan for the fight, Roach explained, "We knew David Diaz was a strong guy. If we landed the combinations with Manny's speed we knew we would out-speed him, but if we stood there and traded with him we would give him a chance to win the fight. The thing was not to step straight back but to step off to the side and then to turn him into another combination. And, it worked perfectly. We worked really hard in the gym and I am so proud of Manny's right hand tonight. In the last fight against Marquez we did not get a chance to use it enough and it has really come a long way. It was why we won the fight so easily tonight- the two hands. Diaz was looking for the left hand and the right hand was there all night long."

When asked about a possible mega-showdown against junio welterweight champion Ricky Hatton, Pacquiao answered, "Ricky Hatton is a good fighter and I can fight him." Arum commented, "as far as I know Ricky Hatton is scheduled to fight Paul Malignaggi this November. So Manny will fight to defend his lightweight title (in November 2008) and if we are going to do a Ricky Hatton fight we will look to do it sometime next year."

With fan favorite Oscar De La Hoya scheduled to fight one last time in December 2008 before officially announcing his retirement, a Pacquiao-Hatton showdown in 2009 looms as the fight to determine the sport's next most popular figure.

Will it be the British Hatton or the Filipino Pacquiao that will replace De La Hoya as the sport's most popular fighter? Hopefully, the dream match of 2009 will provide us the answer.

Arum would not name Pacquiao's opponent for his title defense in November but the promoter did allude to the possibility of a lightweight showdown against Venezuelan knockout artist Edwin Valero.

In January of 2004 Valero failed an MRI scan due to brain scan irregularities in New York and was banned from fighting in the United States. But in March of this year Valero was cleared to box in the state of Texas. Valero currently holds the WBA junior lightweight world crown and has been touted by boxing insiders as one of Pacquiao's biggest threats.

Former champion Diaz took the podium at the post-fight media conference and in a light moment after suffering a brutal knockout loss, Diaz joked with the media, "If you guys get that number of the license plate of that truck (that hit me) I would really appreciate it."

Diaz continued to engage members of the press when he stated, "No excuses. That m*therf*cker is fast." Diaz conceded that it was Pacquiao's speed that was the difference in the contest. Diaz was gracious in defeat praising Pacquiao for being a clean fighter. Diaz left the media room quickly after his remarks so that he could go to the hospital and have the nasty cut over his eye stitched up.

8,362 boxing fans attended the Pacquiao-Diaz title bout at the Mandalay Bay Events Center in Las Vegas on Saturday night. When asked why this fight drew less fans than Pacquiao's previous fight (the attendance for Pacquiao's March bout against Marquez numbered over 9,100), promoter Bob Arum answered, "one man to blame – George Bush." Arum went on to explain that because of the huge spike in gasoline prices (which the politicians have not been able to control), people simply can not afford to drive to Las Vegas from Los Angeles and this recent phenomenon is hurting the local Las Vegas tourist economy including the fan attendance at boxing matches.

It was announced that HBO will replay the Pacquiao-Diaz fight twice this coming week on both Thursday night and Saturday night.