Shane Mosley & Kostya Tszyu: Boxing's Smiling Assassins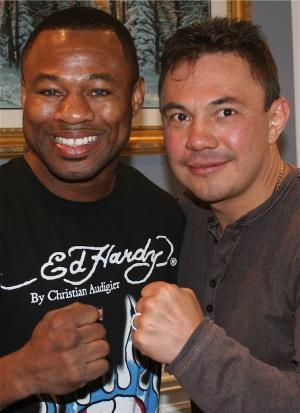 Shane Mosley & Kostya Tszyu

By Paul Upham

To be in the presence of one undisputed boxing world champion is special. To be able to sit back and observe two of them interacting together is a privilege that doesn't come along every day. Such was the case on July 23, when Sugar Shane Mosley accepted an invitation to visit Kostya Tszyu at his home in Sydney, Australia.

It wasn't that long ago that they were considered to be among the best boxers in the world pound for pound, with extensive world title reigns on their resumes. It is almost certain they will one day be enshrined into the International Boxing Hall of Fame in Canastota.

Their amateur career records are amazingly similar. Russian born Tszyu had 259 wins and only 11 defeats on his resume, when he turned professional in March 1992, after becoming world amateur champion in 1991 in Sydney.

Mosley turned professional in February 1993, his amateur record standing at 250 wins and 16 losses. He had competed in the 1992 USA Olympic Trials, but lost a points decision in the semi-finals against future professional opponent Vernon Forrest.

It was as amateur boxers that Tszyu and Mosley first met in 1990 at the Goodwill Games held in Seattle, USA.

Tszyu won the Gold medal for the Soviet Union team at 140lbs at that tournament. Mosley was an 18 year-old Bronze medallist for the American team at 132lbs.

Even back then, Mosley says 20 year-old Tszyu stood out from the other boxers on the Soviet team and it wasn't just his unique hair style that distinguished him.

"I remember his hair plait was longer than what he has it now," said Mosley. "He stood out in a number of ways. He was a real boxer back then. He would slip and slide and duck. I've always believed that the fight starts from right here inside your head. He had that. We used to say he was like an American. He moves around and he boxes. He counters real good. He was real slick and fast.

"We liked him even back then before anybody even knew about him. He just stood out. He was very determined. You could see the determination in his eyes. He went on to have good power, but as an amateur it was weird, he wasn't knocking anyone out. He was a fantastic boxer, then he turned pro and was knocking everybody out."

Asked about his early memories of a young Shane Mosley, Tszyu replied with one word, "Speed!"

As professionals they have been equally successful. Tszyu won four world titles at junior welterweight and was undisputed world champion from 2001 to 2005, with a record of 31 wins, 2 losses, 25 knockouts and 1 no contest.

Mosley has won four world titles in three weight classes and is the only boxer to date to have beaten the great Oscar De La Hoya twice. His record currently stands at 44 wins, 5 losses and 37 wins by knockout.

For the last two weeks, Mosley has been in Australia training alongside and mentoring his 22 year-old protégé Billy Dib, who he promotes under the Golden Boy banner.

22 year-old 20-0 (11) Dib faces South Africa Zolani Marali for the vacant IBO junior lightweight world title on Wednesday night July 30 in Newcastle on the Anthony Mundine-Crazy Kim card.

Interrupting his own training camp in the USA for his upcoming fight with Ricardo Mayorga on September 27, Mosley made his first trip to Australia to work with Dib, who is now trained by Tszyu's former trainer Johnny Lewis.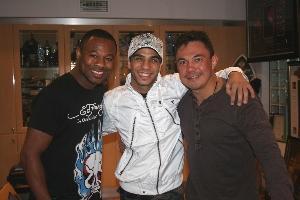 Shane Mosley, Billy Dib & Kostya Tszyu

After completing their morning gym session, Mosley and Dib drove to Tszyu's impressive home in the southern suburbs of Sydney.

Tszyu, who had only just completed his own morning workout in his home gym, greeted them at the front door. There was nothing but respect and friendship as the two boxing superstars embraced warmly.

"Kostya, great to see you," smiled Mosley.

"It is so good to have you here Shane," replied Tszyu.

As they sat down side by side in Tszyu's lounge room, the first topic to be discussed was something that means so much to both men and it had nothing to do with boxing. For Mosley and Tszyu, family takes precedence over everything else.

Mosley met Tszyu's wife Natasha and two sons Timophey and Nikita. They also have a daughter Anastasia. Mosley has three children with his wife Jin, sons Najee Jamarr, Taiseki Justin and daughter Mee-Yon Jinae. He also has two older sons, Shane Jr and Norman.

Tszyu's father Boris was also present and has always been a huge part of his son's life, much like Mosley's own father Jack, who has trained his son for the major part of his boxing career.

Tszyu and Mosley found they had much in common when dealing with the issue of what sports their oldest sons should pursue competitively.

"I told my oldest son Shane Jr, if you want to box, that is up to you," said Mosley. "I will train him. But I am not going to push him."

Shane Jr is a 17 year-old who is much taller than his father and could eventually compete as a light heavyweight.

"I remember last year when Shane started doing morning runs with me," said Billy Dib. "He was telling me how much he really wanted to fight. "

"He actually wanted to fight before that," replied Mosley, "but everyone was telling him, 'don't fight'. He has been around the gym and sparring, so he knows how to jab and use the right hand."

13 year-old Timophey Tszyu has shown great athletic prowess at running, skipping and soccer. While he has done lots of boxing training and sparred on many occasions in his father's gym, even if he wanted to, he is not able to start an amateur career just yet.

"Over here in NSW, they have a crazy rule where they can't fight until they are fourteen years-old," said Tszyu.

Like Mosley, Tszyu will support his son if he decides to box, but it will be Timophey's own decision.

"The problem for them is that people will always be asking, 'is he as good as his father?'" suggested Tszyu.

Mosley was also interested in Boris Tszyu's Korean-Russian heritage. Kostya Tszyu's great grandfather migrated from Korea to Russia at the start of the 20th century. Sugar Shane's wife Jin Mosley is a Korean American who was born and raised in New York. Mosley always attaches the Taegukgi, which is the flag of South Korea, to his trunks whenever he fights.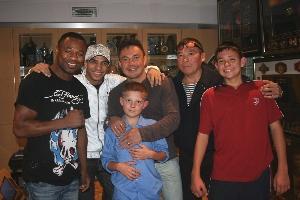 Mosley, Dib & Tszyu with Tszyu's sons Nikita, Timophey & father Boris

After finishing their coffee's, eventually, the talk turned to boxing.

36 year-old Mosley, who looked extremely fit, "I always stay in shape. When I am not boxing, I like to play basketball," is currently weighing 165lbs. His fight with the Nicaraguan 'wild man' Ricardo Mayorga will be held at 154lbs. Mosley, who has been moving between welterweight and junior middleweight over the last few years of his career said, "If there was a perfect weight class for me, it would be 150lbs."

Prior to working with Dib, Mosley's only real Australian connection was his WBC welterweight world title defence against then No.1 contender Shannan Taylor, from Wollongong south of Sydney, in Las Vegas in March 2001, which he won by 6th round knockout.

"He was just tough," Mosley recalled. "He was the type of guy who would come right at you. He was right in front of you. I remember when I knocked him down at the end of the first round, he got up and walked to my corner."

When discussion came to the upcoming weekend's welterweight super fight between Miguel Cotto and Antonio Margarito in Las Vegas, Mosley's words were prophetic.

"I think Margarito might beat Cotto, because of his style," Mosley had predicted. "Margarito is going to make Cotto fight with his constant pressure. Cotto is going to have to be on his 'A' boxing game to box him."

Mosley had lost a close twelve round points decision to Cotto in his last fight on November 10 at Madison Square Garden in New York. Such was the passionate support from Cotto's Puerto Rican fans on the night, Mosley surmised that he may have well been fighting in Puerto Rico.

"The reason why I tried to knock Cotto out was we were in New York, basically Puerto Rico," he said, "so, that is a place where I had to try to knock him out to win. I tried to chase him a little bit and kind of fought stupid. It was a close fight and at the end of some rounds, I pulled back and got caught with a rip to the head and maybe the judges gave some of those rounds to him, where I had won most of the round, at the end of the round, he hit me. The Puerto Rico fans screamed and they gave him the round. Even though I won two and a half minutes and lost the last thirty seconds of the round."

Mosley recalled that he had attended two of Tszyu's fights in person. The first was against Diosbelys Hurtado in November 1998 at the Fantasy Springs Casino in Indio, California, USA. It was a thrilling fight that Tszyu won by 5th round knockout, even though both boxers hit the canvas in an explosive first round.

"That was a good fight," said Mosley. "Kostya was banging him to the body and the head, he was trying to run, but Kostya wouldn't let him run."

Mosley was also ringside at one of Tszyu's best professional nights, when he became undisputed world champion by knocking out Zab Judah in two rounds at the MGM Grand in Las Vegas in November 2001.

"I saw Judah dance," Mosley smiled at Tszyu. "I was there when Kostya knocked him out. You lined him up and bam! Right down the pipe. Zab was going to his right. He kept stepping to his right and you seen him do it once."

"Yes, he did it once in the first round and I missed it, just a bit," replied Tszyu.

"Yeah, you missed it," Mosley continued, "but you said, 'I'm going to get him if he does that again'. I saw that. You looked at him and you knew you were going to get him with the right hand."

Mosley was originally slated to face Judah this year before the New Yorker injured his hand, cancelling the fight.

"When I was training for Zab, I could see what he did," said Mosley. "He caught everyone up the middle. When he turns his shoulder, he caught everyone with the left uppercut or the right hand and the straight left, that is his best shot."

Mosley was reminded that in 1999 he relinquished his IBF lightweight world title to move directly to welterweight. After two tune-up fights, he secured his "Destiny" super fight with Oscar De La Hoya in June 2000, one of the best nights of his career when he won a twelve round points decision in a magnificent battle.

"A great night," said Mosley. "That's the fight that first made me the most money. I thought I won the fight, but thought they might give the decision to Oscar."

Mosley shook his head and smiled when asked if jumping straight from lightweight to welterweight and bypassing Tszyu, who was the WBC world champion at the time, had been on purpose.

"I was really a 140lbs fighter fighting at 135," he explained. "When I first turned pro, what I wanted to do was win the lightweight title, then go to 140 and fight for a little bit, then go to 147. What happened was they kept me at 135, after I fought Philip Holiday. They kept me down there to make me prove myself. After I fought John Brown, it was just too much. Then I got the chance to move straight to welterweight and the fight with Oscar."

Throughout his career, Tszyu was prolific in beating southpaws. They never seemed to worry him and it appeared to be as natural as fighting a right hander.

Whilst talking about Dib's upcoming fight with southpaw Zolani Marali, an impromptu clinic began in Tszyu's lounge room on how to best handle left-handers. Standing up, Tszyu demonstrated to Dib and Mosley some of the tactics he used during his career.

"One of the tricks you do is to move around to your left, like this," Tszyu demonstrated, as Dib and Mosley watched intently.

Mosley then suggested some of his own moves and it became a master class on fighting southpaws. For Dib or any other young boxer, it was a special time to cherish and learn.

"To have sat down with Shane and Kostya and talk boxing was big, really big," Dib would later comment. "It was a good feeling. With these guys, I take everything in. They have been there. For Kostya Tszyu to tell me this next fight is my first world title and I am going to go on and win many more. That makes me feel good. Like Shane, he really wants me to win many more world titles."

Tszyu asked Dib about his training routine for strength and suggested doing push-ups, which had really helped him throughout his own career.

"In 30 seconds you can do 50 push-ups and that is a good workout," said Tszyu.

While he hasn't fought since his loss to Ricky Hatton in June 2005, 38 year-old Tszyu still trains regularly and keeps in good condition. Last year he broke his consecutive push-up record of 270.

Tszyu told Dib how important pushing his body to its limits physically was and how the right preparation in all aspects of boxing would also help him if he were to be knocked down.

"This is the boxing game," cautioned Tszyu. "You can get knocked down, but it is how you bounce back in that situation. How you put this behind you. Have you been knocked down?"

"No," replied Dib.

"Thank God," smiled Tszyu.

"We have both been there," said Tszyu, looking over at Mosley, both of them now laughing. "It wasn't really a pleasant feeling, but it is normal."

"If you get knocked down, you have to be strong, get up and do what you have got to do to win," said Mosley.

"It is all about training," continued Tszyu. "Teaching your body and how you react to this situation."

The group then moved downstairs to Tszyu's games room and bar, the walls adorned with photos throughout his career. It is also where he keeps his pet python, "Jake The Snake", named after Tszyu's first world title victim, Jake "The Snake" Rodriguez.

"I have had him since he was only little," said Tszyu of his pet, who is now eleven years old.

"I see snakes, but I normally don't like to touch them," admitted Mosley.

"He can bite you, but it's not poisonous," said Tszyu, which did not exactly give the American extra confidence.

"I never thought I'd hold a snake," smiled Dib. "I was just trying to be brave in front of Kostya."

After patting the snake, Mosley admired the many photos from Tszyu's career inside and outside the ring. He was particularly impressed with Tszyu's performances in the Australian version of Dancing With The Stars, where he was runner-up in 2006.

"Wow, you can dance?" asked Mosley.

"Well, not really," Tszyu smiled. "But I had a very good partner in Luda Kroitor, she is a world champion dancer and we worked very hard."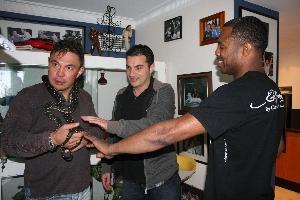 Mosley and Dib's brother/manager Emaid pat Tszyu's python

Moving to Tszyu's trophy room, Mosley admired the four world title belts on display, a WBC, WBA and two IBF titles.

"You have a full collection Kostya," complimented Mosley.

The talk then turned to the proliferation of boxing world titles today.

"You have to pay so much money in sanctioning fees," said Mosley, shaking his head.

"Things have changed now," agreed Tszyu. "Before, you would hold your belt for a long time, now there are so many organisations and they all want a % of money from you."

"When you win your first world title, it means so much," said Mosley, who owns four in total himself, with an IBF world title at lightweight, a WBC welterweight world title and WBC-WBA world titles at junior middleweight.

Mosley looked closely at Tszyu's undisputed world champion belt awarded to him by The Ring magazine after he beat Judah. Sugar Shane has his own version at junior middleweight, after beating Oscar De La Hoya for a second time in September 2003.

Both Mosley and Tszyu agreed that The Ring undisputed world champion belt was very special to them. "It is something that I will always cherish," said Tszyu.

Also very special in Mosley's collection, is the honour of having been considered the best boxer in the world pound for pound.

"When you reach that level of being one of the best boxers at that time," he said, "you go into the history books and that is special."

Oscar De La Hoya's Golden Boy Promotions in partnership with Mosley and Bernard Hopkins, has become one of the world's most dominant promoters in the sport. They have revolutionised the way they deal with boxers, through the hard lessons learned in their own careers and continue to expand into new areas, such as their recent signings of Ricky Hatton and David Haye in the UK.

"That's what Golden Boy is about," said Mosley. "Making sure the fighters are taken care of and helping the sport of boxing. It takes a bit of a blow here and there sometimes, but it is better now because people want to see these up and coming fighters and we are trying to find the next superstar."

As big as he is in Australia, Tszyu is a boxing and sporting icon in Russia and has his own promotional organisation, the Kostya Tszyu Cup. Mosley and Tszyu discussed the possibility of promoting and working together.

"We are currently doing four shows a year," explained Tszyu.

"You certainly have the connections in Russia," said Mosley. "We may be able do something together in the future. We can talk to Oscar and Richard Schaefer at Golden Boy."

At the front door of Tszyu's four level mansion there are tiles expertly laid in black on a white background, featuring the boxer's image between a large 'KT'.

As Mosley was leaving, he stopped to admire the complicated design and Tszyu asked, "You like this?"

"Yes, I really like these tiles," Mosley replied.

"The only problem is my wife says she can step on me every single day," laughed Tszyu, walking over the top of himself.

With that, Mosley and Dib jumped into Tszyu's Bentley motor vehicle parked in his driveway courtyard. They drove to Mosley's hotel and Tszyu had enjoyed their meeting so much, he stayed and had lunch with them.

Mosley also enjoyed his time with Tszyu immensely.

"It was like old times," he said, the following day. "I first met Kostya way back in 1990. He didn't speak English back then. It was great to see him. We were talking about working together with Golden Boy and some Russian fighters. Oscar, Kostya and I, we all came up in the same era. Working together in the future would be great.

"It was a great thing to go to his home and see him, his family and his kids. His son Timophey is starting to get into boxing, maybe. Kostya has strong morals and values. He seems like an all-round professional. A very straight up person."

For Tszyu, Mosley is a true professional in every sense of the word.

"I really like Shane and it was great to spend time with him again," said Tszyu. "Of course, his achievements in boxing are special. He has been one of the greats. But I like Shane Mosley the man outside the boxing ring even more."

Dib agrees that there are a lot of similarities between Mosley and Tszyu and it is just not the fact that they were both born in the month September and have great right hands. They have a burning determination to help the sport of boxing.

"They are just like Oscar De La Hoya and Bernard Hopkins," he explained. "They love the sport of boxing and that's why they give us younger guys an opportunity to improve and showcase our skills."

There are so many things to love about Shane Mosley and Kostya Tszyu and what they have done for boxing and continue to do. They are strong family men who have set the standard by respecting the sport, their fellow boxers and the fans. But most importantly, they have been a great example of what hard work and dedication can achieve, whilst enjoying the journey along the way.

"If you are not smiling, what's the point,' said Tszyu. "You have to enjoy it."


Paul Upham
Content Editor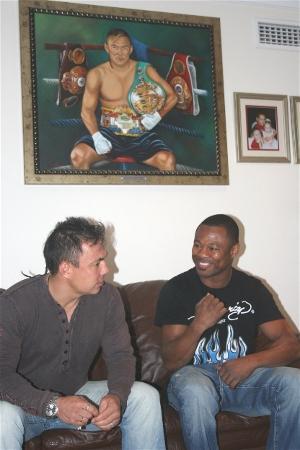 Kostya Tszyu & Shane Mosley




Subscribe to feed