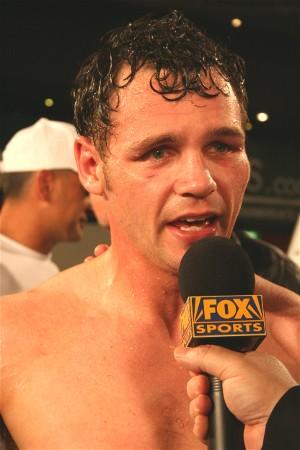 Geale is ready for Mundine

By Paul Upham: At Monday's press conference, Canadian Ian MacKillop told the media that while he was a good young fighter, IBO middleweight boxing world champion Daniel Geale didn't have any real power. On Wednesday night, Geale showed Australia the special talent he possesses with a stunning 1st round knockout win at The Cube in Campbelltown, Sydney. In doing so, Geale sent a message to his next opponent, Anthony "The Man" Mundine.

"I expected it to be a tough night, but sometimes boxing goes that way," said Geale after the win. "I am looking at big things now. My management knows this is going to be a big year for me now."

28 year-old Geale 21-0 (13), originally from Tasmania, rocked MacKillop 25-11-3 (14) with a right hand in the opening minute. While he didn't hit the canvas, the legs of MacKillop were not with him and the fight was as good as over.

31 year-old MacKillop, well known to Australian fans after he upset Shannan Taylor by stoppage in July 2006, tried every trick he had learned throughout his career to survive, but Geale closed in and knocked him down with a left hook.

The fight was stopped at 1:58 in round 1. MacKillop kneeling on the canvas with blood gushing from his nose, unable to continue and beat the referee's ten count.

"It looks it looks like it is going to happen," Geale said, of a fight with Mundine. "Hopefully we can finalise a date. It looks like he is keen to fight me and he thinks he is going to beat me. I just hope he turns up."

Geale and Mundine's promotional teams have a hand shake agreement for an IBO world title match on May 27. Geale's timing, which gives him surprising power in the ring, will ensure that a fight with the two-time WBA super middleweight world champion will be a very competitive match indeed.

In the main support bout, 21 year-old undefeated Lenny Zappavigna 18-0 (13) retained his status as one of Australia's best young prospects with a unanimous twelve round points decision win over former IBF/IBO junior lightweight world champion Gairy "Superman" St Clair 41-9-2 (18) to retain the IBF Pan Pacific junior welterweight title.

Zappavigna's workrate and aggression paved the way for his win.

34 year-old St Clair used his usual defensive mastery to make Zappavigna miss at times, but he wasn't able to be as aggressive as he would have liked to have been to win more rounds on the judge's scorecards.

Zappavigna's confidence is now coming to the fore and he controlled portions of the fight brilliantly which some excellent pressure and combination punching.

The judges scored the fight unanimously for Zappavigna 120-107, 119-109 and 120-108.

33 year-old former rugby league football star Solomon Haumono 15-0-1 (14) was disappointing in his ten round draw with 36 year-old former Australian champion Colin Wilson 34-24-1 (20). It was the first career draw for both men.

The 6'5'' tall Wilson had recently lost his day job as a miner and with his wife delivering him a new baby, the man mountain was inspired to deliver an upset.

Southpaw Wilson was circling and moving in round 1. Wilson's counterpunching and punching to the body won him the opening stanza. Haumono started round 2 with a right hand which had Wilson on the back foot, but he weathered the storm.

Haumono began aggressively in round 3, but Wilson was counterpunching with skill. An uppercut from Wilson and a follow-up two-punch combination rocked Haumono like he had never been punched before. "Sol, you have got to hurt him this round," pleaded Haumono's trainer Johnny Lewis. "Jab properly. You are just pawing with it."

Haumono responded and was marginally more aggressive in round 5, producing some blood from the nose of Wilson.

Wilson stated round 6 with purpose, pushing Haumono back. Then a straight right rocked Wilson's head back. There was a slower pace from both men in round 7, the closet one of the fight. Wilson lifted again at the start of round 8, but Haumono was punching harder in round 9, taking heed of the urging of Lewis that he needed to lift and bloodying Wilson's nose again.

Wilson worked to the body in round 10. Haumono responded with some stronger punches. A right hook from Wilson landed on Haumono's jaw and the younger fighter fired back. A wild right hand forced Wilson back, but he simply shook it off and fired back. Wilson then took a right hand in return. To finish, it was the hardest working round of the fight for Haumono.

The three judges scored the fight 95-95 draw, 96-95 (Wilson) and 96-94 (Haumono)

This writer scored the fight for Haumono 96-94.

22 year-old Billy "The Kid" Dib 22-1 (11) won the WBC interim World Youth featherweight with an eight round technical points win over 22 year-old Davey Browne 15-1-1 (4), handing him his first career defeat. The match was stopped in round 8 due to a bad cut over Browne's left eye that was caused by an accidental head clash.

"Davey Browne, I take my hat off to you my friend, that was a top fight," said Dib. "I put on a great performance. This is what the fans what to see. They want to see fights and I am here to deliver."

There had been a lot of 'Bad Blood' talk between the two in the lead-up to the fight and Dib, who had predicted a knockout win, hammered Browne with a right hand in the opening seconds. Dib was slipping punches smoothly and landed a left hand, right hand combination which rocked Browne.

Despite Dib's forceful start, the title-holder would not take a backward start which led to a number of thrilling two-way exchanges. Uppercuts from Browne in round 3 dug deep and a right hand from Dib in reply hurt Browne. "This a good fight," noted Sugar Shane Mosley, who was commentating for television at ringside.

Clean fast punching from both men made for an enjoyable viewing experience and the crowd erupted in cheers and applause on a number of occasions. Dib appeared to be landing more consistently in round 4, but it was not one-way traffic with Browne ending the round with an eye catching combination. After some grappling on the inside in round 5, Browne was valiantly coming forward in round 6. Dib was fighting in spurts from the outside, but as the round progressed, the recent WBO world title challenger displayed his confidence, showboating to the crowd and doing a little 'Ali shuffle'.

Browne was fighting with heart in round 7 despite the punishment he had received, but Dib had his number. There was a bad cut from head clash over Browne's left eye, with Dib moving forward. After the referee had allowed the action to continue, Dib attacked furiously and Browne was cut over the left eye, this time from a punch.

After 0:57 seconds of round 8, referee Charlie Lucas stopped the fight on the advice of ringside doctor Alex Lewis, due to the cut over Browne's the left eye which came from a head clash.

Judges scored the fight for Dib in a split decision, 69-65, 66-67, 68-65

The event was promoted by Grange Old School Boxing.

Date March 11
Location The Cube, Campbelltown, Sydney, Australia
Daniel Geale w.ko.1 Ian MacKillop - middleweight
Lenny Zappavigna w.ud.12 Gairy St. Clair
IBF Pan Pacific junior welterweight title
Solomon Haumono d.10 Colin Wilson, 10rds - heavyweight
Billy Dib w.td.8 Davey Browne
WBC interim World Youth featherweight title
Solomon Egberime w.ud.6 Moses Seran - welterweight


Paul Upham
Content Editor